Our Favorite Vibrators for Forced Orgasms
Disclosure: Affiliate links are included throughout this post. That means if you click a link and make a purchase, we make a small commission. This helps us continue to make content and also fuels our coffee addiction.
Of all the ways to play with orgasm control, our absolute favorite is forced orgasms. It helps that I'm multi-orgasmic and that, once I get warmed up, I can keep going for a long time. Plus, I'm a masochist who loves a certain amount of torture — and at a certain point, that's the only way to describe what's happening to my clit. Painful torture.
We've found that any vibrator that provides clitoral stimulation can work for us. But we have a few sex toys that we love better than others for a variety of reasons. If you like forced orgasms and want a sex toy to help, here are some we highly recommend.
Hitachi aka Original Magic Wand
It might seem cliche but we've got to start here. The Original Magic Wand was a kinky Christmas gift to me from John Brownstone and we quickly put it to good use. We've used it with bondage: the classic "tie-the-vibrator-to-my vulva" thing you've likely seen online. He's also mercilessly held it in place against my clit while I was tied to the bed. All I could do was scream and struggle against my bonds.
We have the most basic "original" version available so it has two settings: high and holy-fucking-shit-it's-like-a-buzzsaw-on-my-clit. And yes, it plugs into the wall so we need to be near an outlet when we play.
Also, the house has to be completely empty because I scream my head off with this. My throat will be raw when we're done.
Because it's so intense, we only rarely let it make direct contact with my clit. Placing it below my clit or just above my clitoral hood lets us play a little longer but since JB's evil, sometimes he presses the head right on in there.
Want one for yourself? Buy the Original Magic Wand at The Stockroom | Use code LOVINGBDSM to save 15 percent!
Small Wand Massagers
The Original Magic Wand is a large wand massager and definitely has a place in our kinky fuckery (obviously). But over the years, I've collected a few smaller massagers that are great for forced orgasms.
They have the same shape as the Hitachi: a large vibrating head that feel great when directly on my clit as well as around it and a long handle. This makes it easier to use during partnered penetrative sex. (Open thighs, place vibrator against clit, keep hand out of the way for all the fucking going on from JB. Ta-da!)
Not all wand massagers are created equal, but I've collected a few I really like. They live in my nightstand and I can reach for whichever is closest (and charged) even during middle-of-the-night sleepy sex.
Here are my current faves:
Pink B.O.B by TooTimid | Check out my review | Buy the Pink B.O.B. here
Dual Wand Massager/Clit Sucker by Sohimi | Check out my review
Rhea Wand Massager by V for Vibes | Check out my review | Buy Rhea here
Digit Finger Vibrator
I've threatened to build a shrine to the Digit before. In a head-to-head competition between it and other vibrators from Hot Octopuss, this one wins hands down. While we don't often use it for forced orgasms, it definitely gets the job done.
Don't let the size fool you. She's small but fucking mighty. The rounded tip sits against my clit perfectly. Pair that with the standard thumping vibrations that Hot Octopuss is so good at, and I'm definitely orgasming uncontrollably at a certain point.
Because it's so small, there's not as much room to move it around and still feel the sensations. A wand massager means I can put it almost anywhere on my vulva, and I'll get off. With the Digit, it has to make contact with my clit or clitoral hood.
The good thing about its size and relative power is that I can use it longer than I can with the Original Magic Wand or other small wand massagers. I'm not overwhelmed as quickly with the Digit as I am with larger vibrators.
Check out our Digit Vibrator review.
Want one for yourself? Buy the Digit Vibrator from Hot Octopuss | Use code KAYLA10 to save 10 percent!
We-Vibe Chorus
The We-Vibe Chorus is designed and sold as a "couples" sex toy — specifically for penetrative sex. I'd always wanted to try one, but I had no idea what to expect. Would it fit comfortably in my vagina alongside JB's dick? (Yes, yes it would.) Would I feel any vibrations? (Yes, yes, I did.)
Before using it, I knew We-Vibe was supposed to make good vibrators, but I couldn't imagine what would happen, or if I would even enjoy it.
Holy fucking hell, y'all. 
I worried there wouldn't be enough pressure from the clitoral vibrator (because I wasn't holding it in place), but there definitely was. Once JB slid inside, I was trapped between two vibrators (internal and external) with no way to get away until he pulled out.
But of course he didn't, and I would have been disappointed if he had.
Using a hand-held vibrator for forced orgasms (self-induced or not), you can always pull away a little or stop completely. The Chorus puts the control into "orgasm control." I had nowhere to go and no easy way to stop it. I was helpless against the sensations, and I loved every second of it. Even though I screamed my throat raw.
Check out our We-Vibe Chorus Review. (The We-Vibe review starts at 9:07)
Want one for yourself? Buy the We-Vibe Chorus here
Atom Plus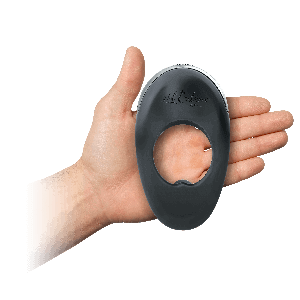 The Atom Plus by Hot Octopuss is one of three cock rings in the Atom line, and the only sex toy we've ever used until it literally died. (We haven't replaced it because we have the other two versions.) Of all the versions, this was the one that forced multiple orgasms from me during penetrative sex. The Atom isn't made to do that, and the Atom Plus Lux just didn't do it at all. (That might have been an issue of angles or my body changing over the years. All I know is that I didn't have the same result as with the Atom Plus.)
For the We-Vibe Chorus, we had sex in our preferred spooning position. With the Atom Plus, we were in missionary. With each thrust in, the vibrating "head" (it's not quite a "tip") sat perfectly against my clit. Because JB's a sadist, he prolonged the pleasure/torture by grinding the Atom Plus against me.
All I could do was hang on and scream (for mercy? for release? Who the hell knows.).
Because it's a cock ring, I did get temporary relief anytime he went back to in-and-out thrusts. But whenever he felt like it, one downward stroke and a lot of grinding was enough to turn me into an orgasmic mess. And again, without safewording, there was no way to get away from the stimulation. Which, of course, was part of the fun.
Check out the Atom Plus review (this details JB's solo experience using it)
Want one for yourself? Buy the Atom Plus from Hot Octopuss | Use code KAYLA10 to save 10 percent
Bottom Line
We loooooove sex toys, and we especially love vibrators of all shapes and sizes. Forced orgasms for us are a mix of pain and pleasure, sensation and stimulation, and control and submission. This is the one time I'm not asking to orgasm. The expectation is that I will, and I'll keep doing so until I can't take anymore.
Vibrators make this so much easier and more pleasurable for us. We're constantly trying new toys, but these are the ones that we know work for us every time. And frankly, if a vibrator lets me force my own orgasms (or makes it possible for JB to do it), it becomes an automatic favorite.