Kinking Up the Holidays | 2021 Holiday Kinky Gift Guide
Disclosure: Affiliate links are included throughout this post. That means if you click a link and make a purchase, we may make a small commission. This helps us keep creating kinky content and fuels our coffee addiction.
Want to get a kinky gift for your partner or your relationship this year? Not sure what to get? Our kinky gift guide is broken up by kinks and offers recommendations based on what we've tried and liked in the past and, in many cases, still use a lot.
Impact Play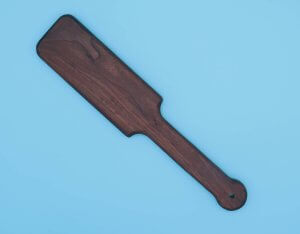 Love to hit or be hit in your power exchange or a kinky scene? We do too! Impact play is our top kink.
That's why we started the Kinkery – our very own BDSM toy shop. A lot of what we offer are impact play toys.
For stinging, burning sensations, try our Delrin canes.
For smacky impact that's light, we recommend a Slapstick. If you want a bit of a thud, the Ass Beater and Ass Beater, Jr are good options.
Of course, we're not the only ones making and selling impact play toys.
Here are some other toys we recommend:
Electro Paddle from ElectraStim
Leather tawse from Liebe Seele
Orgasm Control
Y'all know how we feel about orgasm control. (It's our jam!) It's impossible to recommend sex toys that will universally get the job done, though. It's important to know what stimulation turns you on and gets you off.
Our recommendations are based on the following: a love of deep, rumbling vibrations and direct clitoral stimulation (for anyone with a vulva). While no one controls JB's orgasms, we'll also include options that may work for penises, based on JB's fave toys.
Clitoral Stimulation:
Original Magic Wand (formerly known as the Hitachi)
We-Vibe Chorus (great for penetrative sex)
Penis Stimulation:
Are these all from Hot Octopuss? Yes, yes they are. He likes what he likes, y'all.
Bondage
We don't consider ourselves educators on bondage. JB loves it and is always seeking out new ways to learn. I am a willing participant but that's about it. That being said, we're happy to share what we like.
We like My Nawashi for beautiful natural fiber rope – jute, hemp, bamboo, etc.
While we haven't shopped from Twisted Monk yet, we want to. The colors look AMAZING.
For rope bottoms, we recommend the book Somatics for Rope Bottoms by Natasha NawaTaNeko if you want to take your experience a bit deeper.
And for those who love the idea of bondage but don't have the skills yet, check out the gear from Liebe Seele and Oxy Shop. They each offer some great kits that look beautiful and feel great while also working well.
Wax Play
We're still fairly new to wax play, so our faves are still limited. Mostly because it took us such a long time to find wax we like.
We highly recommend the wax from Alice's Beat'ems on Etsy. The shop seems to be on an extended break, and I hope they come back. We'd love to buy more wax from them.
Another shameless plug, but JB also makes wooden knives, which is what we use to get the wax off my skin when we play. I have a hard limit about actual blades, and this was his workaround. He liked them so much, he makes and sells them over at the Kinkery. (It must not just be us who likes them because they're a best-seller.)
ElectroPlay
My personal favorite type of electroplay involves anything that's similar to a TENS unit (like the ElectraStim AXIS). I like that you get a lot of control over the intensity of the stimulation. For the most part, I don't like too much pain in my electroplay, but sometimes it looks so fucking cool, I don't care how it feels.
Here are a few things we've used and loved if you're ready to try something new:
ElectraStim AXIS (this is what allows you to use electropads or electro sex toys)
ElectraStim Electro Paddle (yes, I listed it under impact play, too)
All kinks require that you learn the risks before you play, but electroplay definitely does. Don't jump into the deep-end and make sure you know safety tips first. This is a really interesting, in-depth look.
Power Exchange
The holidays can be a special time of year for some kinky couples. They may want to mark the occasion with a new collar. We highly recommend Elegantly Owned on Etsy.
Or you may want to recommit yourself or learn more about power exchange for the next year. To do that, we have a few resources we recommend that may help:
Tongue-Tied by Stella Harris (a book all about communication)
Submissive Reflection Workbook by Luna Carruthers (great for those wanting to get in touch with their submissive side)
Dom Sub Living (online classes on power exchange)
BDSM Contracts (great if you want to formalize or re-formalize your power exchange)
Bottom Line…
We've tried a lot and want to try even more. It's hard to keep up with everything available for kink, so we tend to go back to old favorites time and time again. (Which is what makes them favorites, of course.) Check out our stuff we love page for even more recommendations!
What's on your kinky wish list this year? Do you have any old faves you'd recommend as kinky gifts for others? Share in the comments below!