Book Review: Tongue Tied by Stella Harris
*We received Tongue Tied by Stella Harris in exchange for an honest review. Affiliate links are included in this post.
When I know I'm going to read a book on a topic I frequently discuss, one of two things happens. Either I worry that I'll find out I've been incorrect all this time or I'll think the person I'm reading is full of crap.
Spoiler alert: none of those things happened with Tongue Tied. In fact, from start to finish, it was pure validation on how I view communication with a few things I'd never considered before.
If you're looking for the main point of this review, here it is: I loved this book! Before I'd finished it, I'd already recommended it to someone who was going through communication problems in their D/s relationship. Once John Brownstone reads it, we'll discuss it together. For now, here's my review.
About Tongue Tied by Stella Harris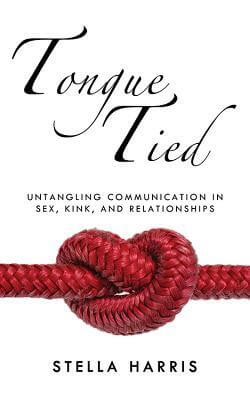 Sex is still a touchy subject despite recent sex-positive advances. We live in a culture that vilifies people who are sexually adventurous and frames our kinks as shame-inducing perversions. Many people have never been able to talk openly about sex with their partner(s). But, you can get what you want out of the bedroom–if you ask for it. Why should anyone settle for mediocre sex?!
Whether addressing sexual frustration with your partner, trying out new fantasies, or negotiating the terms of a BDSM scene, Stella Harris believes that communication skills are vital to sexual fulfillment. Tongue Tied gives readers straightforward advice on how to conquer their fears, identify their needs, and feel positively empowered. Harris charmingly takes readers through all aspects of communication, from basic interpersonal skills to negotiation advice for expert-level kink play. Learn how to have fun, embrace silly moments, support your loved ones, and take personal responsibility for your desires.
An incredible guide full of exercises, tools, and personal examples, Tongue Tied is a must-read for people of every experience level and relationship status.
Review of Tongue Tied
The subtitle of Tongue Tied says, "Untangling communication in sex, kink, and relationships." If you're like me and don't always pay attention, you'll be forgiven if you think the entire book focuses on kink (like I thought it would). In fact, author Stella Harris primarily discusses sex and relationships.
For anyone looking for 270+ pages on kink negotiation, you'll need to read between the lines. That's not a criticism. In fact, taking the book holistically, you can apply it to any and all parts of your life where you need to communicate. Swap "sex" or "relationship" for "work" or "boss" and the lessons will still apply (although the language you use may differ).
In Tongue Tied, you're given the tools (primarily through exercises you can do alone or with a partner) to figure out how you want to communicate and what you need. You're also reminded that none of this (D/s, sex, relationships, etc) works without communication. (Talk about feeling validation — I say that ALL the time.)
If you're in the early stages of a new relationship and want it to start off with good communication, read Tongue Tied. Even if you've been together forever, read Tongue Tied, especially if you know one or both of you struggle with expressing your needs, emotions, and desires.
Tongue Tied will take your communication skills beyond saying, "I want you to dominate me" although using the skills you learn while reading it, that will become a lot easier. The big takeaway from this book is learning how to express yourself within your relationship and listening when your partner expresses themselves, too.
Inside Tongue Tied
The first few chapters lay the groundwork for everything else you'll read. From the very beginning, chapter one is "What are we aiming for?" where you think about boundaries, expectations, and relationships. You know, the stuff that can be hard to navigate and make communication difficult. In subsequent chapters, you not only have to think about the question "What do you want?" (chapter 5), you also get practical tips and advice as in "How to Talk" in chapter six.
So yes, this is a sex, relationship, kink, BDSM, D/s communication primer. If you know your communication skills suck, you need this. If you're sure they could be better, Tongue Tied can help. And if you're like me and think you have a good grip on your communication, you'll not only be validated but probably pick up a few tips along the way.
Stella Harris is a sex positive human and therapist, so she discusses relationships and sex in a very open, non-judgmental way. Whether you're strictly monogamous or you're open and looking for consensual non-monogamy, she gives you the tools you need to communicate in healthy and productive ways.
Buy Tongue Tied
Interested in getting a copy for yourself?
Check it out on Goodreads • Buy Tongue Tied on Amazon • Published by Cleis Press
If you've read Tongue Tied already, share what you thought of it in the comments below! Did you learn anything new? Were you surprised by anything you read?