Our Favorite Impact Play Toys
Impact play, the act of consensually spanking, striking, or hitting a partner, is one of our top kinks. In our hierarchy of kinks, it comes right after the need for power exchange. So yeah, it's important to us.
While you don't need kinky toys to do impact — your hands are all you ever need — we have a serious love of them. So much so that we started an online shop filled with weapons of ass destruction made by John Brownstone called The Kinkery.
Full disclosure: Yes, some of our favorite impact play toys are products we make and sell but we loved them before we ever imagined selling anything.
Everyone is unique in what feels good to them for any kind of kinky play. I tend to prefer thuddy, deep-tissue massage level sensation. JB is a sadist who loves to watch me cringe and cry out and "dance" on my tippy toes in pain. It doesn't matter to him what kind of sensation creates that reaction.
Our "favorites" are a mixed bag of toys, and you may hate something we love. That's okay. But if you're looking for some ideas, these are the types of kinky toys we love for impact play.
Wooden Paddles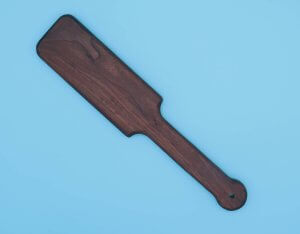 JB has a deep love for wood in general (as a woodworker, that makes complete sense). But he also loves reaching for wood when he's ready to strike. In what will come as no surprise to anyone, our favorites are the ones he makes over at the Kinkery. Check them out here.
The thing about wooden paddles is that no two are alike. Whether it feels thuddy or stinging will depend on the size of the paddle, including how thick or thin it is. The type of wood will also make a difference. Some woods are heavy. Others are very light.
Now add in details like holes, shape, or even additions (like rope!), and the entire experience of a paddle changes.
He loves using longer paddles that cover my entire ass. Those hurt the most, in my opinion. I prefer smaller paddles that can only hit one cheek at a time.
Floggers
Another top pick of ours is floggers, primarily those made with leather, suede, or other softer materials. And not all leather is soft, either, as I've learned the hard way over the years.
We use small toys, sometimes called "bedroom floggers," because they're a good size to throw in a bedroom. We also have big ones (huge wooden handles and long falls) that get used most often in the dungeon.
I prefer softer materials because they're more likely to feel thuddy on my skin. But as JB loves to remind me, even the "softest" flogger can sting and burn like hell, depending on how it lands on your skin.
We've purchased floggers from a variety of places, many of them in-person from local sellers. One of our favorite floggers, though, came from Cane-iac — though the one we have is no longer on the site.
Leather Paddles
Sometimes a leather paddle is a solid piece and sometimes it's more of a tawse. JB loves a good tawse (like this one from Liebe Seele). They make a great cracking sound and make me jump around like crazy.
The tawse isn't my favorite. The one I love the most is a leather paddle with a wooden core. It's firm, sturdy, and sounds worse than it feels. This is a very smacky paddle that I can handle for a very long time.
It came as part of the Schlossmeister Stockade Set. Unfortunately, the paddle is no longer available for individual purchase. But because of my experience with it, I would definitely be willing to use another version from another maker.
The lightness of the paddle fooled me at first. I worried it would sting. But it's neither a sting nor a thud, while still being completely satisfying. The pain is so surface level that I bed JB to strike harder and keep going until his arm gives out.  The sensation doesn't push my boundaries and become overwhelming, giving us plenty of time to play.
Electro Paddles
We've only ever played with one electro paddle (from ElectraStim) but I loooooooove this damn thing. First of all, we enjoy electroplay in general. We don't do it to the point of pain, and we use it mostly for orgasmic pleasure.
But the electro paddle is on another level entirely.
One side is smacky and slightly stinging, not my favorite sensation. But when he flips it over so the conductors touch me, it feels fucking amazing. The only way I know to describe it is like a vibrator but on my butt. It's buzzy and penetrates deep into my muscles, not unlike a deep-tissue massage.
There are plenty of brands that make one, but the only one I've ever tried is the ElectraPaddle. And yes, I highly recommend it.
Canes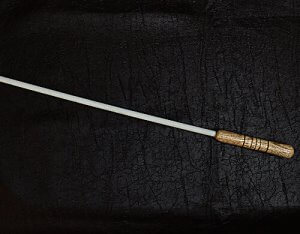 Okay, so this is "our" list of favorite impact play toys, which means I have to include canes. Even though they're definitely not my favorite. I tolerate them because JB loves them.
But he loves them so much, he makes them to sell and uses the style he makes. He prefers Delrin canes, but we've tried other materials in the past — including wooden dowels.
If I have to pick, I'll take a Delrin cane. He can't go too hard on me because I'll safeword right out of the scene. So he uses a cane like an exclamation point at the end of a sentence. Or to get a point across. Or to mindfuck me.
The thinner the cane, the worse it hurts, in my opinion. I feel the sensation like a burn that goes from my skin through my muscle and bone, and out the other side again.
Our first cane was from Caneiac — it may have been this one (or something very similar). We also use the type of canes he makes for the Kinkery. Check them out here.
Pervertables
Note: a pervertable is an everyday "vanilla" item that's been repurposed into a kink toy or is used for kinky purposes.
Just like you don't need gear to enjoy impact play (as long as you have hands), you don't have to spend a lot of money, either. We've perverted a lot of things over the years to get our kink on.
Back in the day we used hairbrushes, ping pong paddles, and whatever JB could find. But our two favorites out of everything we've tried have to be: wooden spoons and belts.
Our wooden spoon was my fave in the kitchen first. Now it lives in our toy bag. It's got a wide ladle with just enough weight to feel smacky but not stinging. I was very sad to lose it from the kitchen but I'm never disappointed when he pulls it out for a scene.
His favorite pervertable is probably his belt. I don't love the sensation it creates on my skin, but we both enjoy the way I react when he cracks it or threatens me with it. (And by "enjoy" I mean I whimper, cower in a bit of fear, and feel my most submissive and masochist self — desperately hoping he doesn't hit me with it but loving that he might and that he has all the power.)
The belt is a complete mindfuck for me, and I know JB loves that about it.
Bottom Line
Impact play can be done in many ways, with or without toys. Because I love the sensation of impact, and he loves giving it to me, we've tried a lot of toys and pervertables. And we're definitely open to trying even more. But after all this time, we've definitely got some favorites.